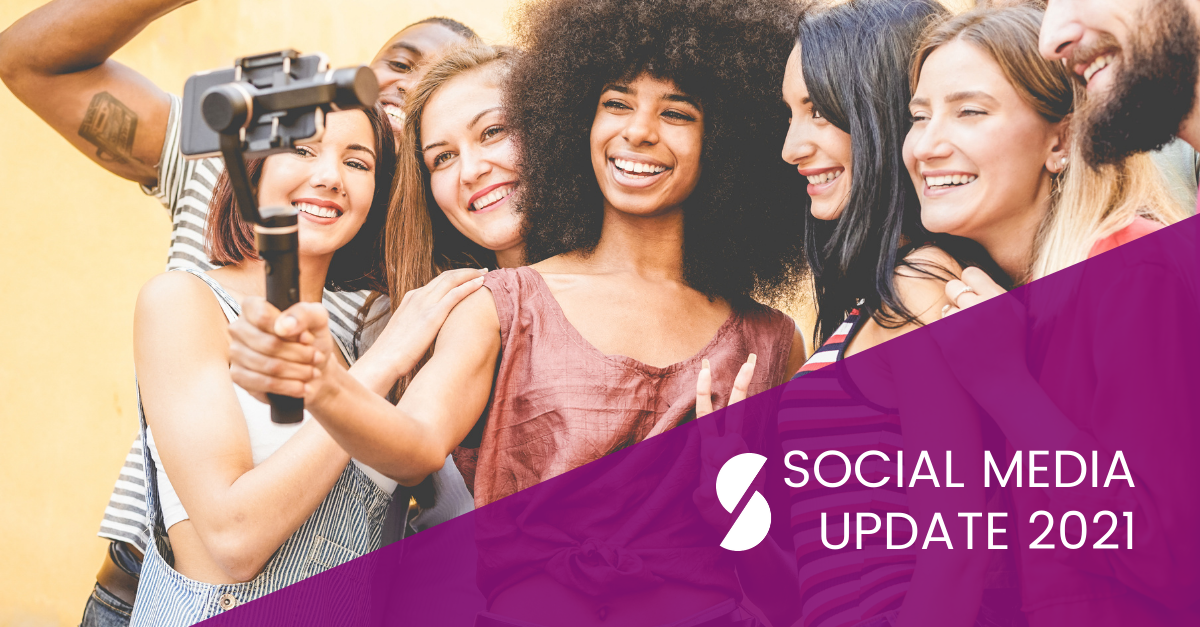 On World Social Media Day, Amy Ralston shares some of the latest trends and developments from the last 12 months.
The 30 June 2021 is World Social Media Day; which is the perfect opportunity to recognise and celebrate social media's huge, revolutionary impact on global communication, brand awareness and brand advocacy. Social media is reportedly used by approximately 4 billion people and on average, a person spends around three hours of their day on social media.
In this article, I have put together a round-up of some of the new features, platforms and trends to have hit the social media industry since last year's world social media day.
A lot has happened since 30 June 2020 – and this article is by no means an exhaustive list; more of a highlights reel (excuse the pun!).
2021 Social Media Round Up
Influencer marketing
The last year has seen influencer marketing, collaborations and content creation partnerships accelerate at a rapid pace – influencer marketing is quickly becoming an essential part of a brand's marketing strategy.
Influencers and content creators fill every conceivable interest – if you can think of it, the chances are, there is an influencer for it! From food blogging, beauty to fly-fishing – where there is a target market, there is likely to be an influencer to match.
There has been a steady shift away from mainstream celebrities with huge followings such as Kim Kardashian West, to micro- and nanoinfluencers, kidfluencers and gaming influencers.
Social media advertising regulation
With influencer marketing in mind, over the past year I have seen a significant rise in the number of influencers and brands being held accountable for breaching advertising codes and regulations. In tandem with this is the increase of press coverage – it is increasingly more common to see influencers and brands hit the headlines for breaching advertising rules.
Just this month, the Advertising Standards Authority (ASA) announced that they are to launch a "name and shame" page where non-compliant influencers will be listed for all to see. This comes following the ASA report published in March 2021, which highlighted that brands will be held equally responsible for failing to adequately disclose advertising content on social media and that there has been a 55% rise in complaints about influencers across all social media platforms. Please check out my article on the ASA Influencer Ad Disclosure on Social Media report for more details.
It is therefore important that brands put in place a strategy for engaging influencer marketing services which accounts for the risk of non-compliance with advertising rules and regulations, together with consumer protection law.
We advise businesses on their current and prospective influencer and content creator relationships and can help to implement a strategy which helps to mitigate the risk of reputational damage.
TikTok Growth
The growth of TikTok has been rapid ever since its launch in 2017. In July 2019, TikTok already had around 500 million active users. Now in 2021, TikTok reportedly has around 1 billion monthly active users.
The choice of filters, movie clips and songs has led to viral content and many TikTok communities. The app's business model is all about creative users displaying content in videos that last up to a minute. It also serves as a medium between brands, content creators and influencers.
Social e-commerce
In 2020, TikTok exploited its popularity by commercialising; new shopping features were added to its platform and a partnership with Shopify was formed. TikTok has also started allowing users to add e-commerce links to their bios and has launched the availability of "shop now" buttons to advertorial content.
Last month it was announced by several media outlets that TikTok had begun testing in-app shopping features in Europe by partnering with several brands. This next step sounds similar to Instagram's offering. It was also reported that shopping on TikTok had grown by 553% in the last 12 months.
Instagram
Instagram has reportedly over 1 billion global users and over 500 million of those users post stories on the platform every day.
Reels
Instagram Reels were launched in August 2020 and have been perceived as Instagram's reaction to the popularity of TikTok. The format of reels is similar to TikTok's but there is no watermark included and the maximum length of a reel is 30 seconds for typical users. Instagram's algorithm also does not promote reels which include the "TikTok" watermark, so users are less likely to see a reel which is a recycled video from TikTok.
In June, Facebook announced that Reels will start monetising the platform and including ads. Users will be able to like, comment and interact with the ads like a normal Reel and the advertisements will carry a 'sponsored' disclaimer. Before, it had focused on content and stories, but now it will start including sponsored posts indicating the distinct rise in advertisements across social media platforms.
Social e-commerce
In 2019, ahead of the curve, Instagram made moves to become an e-commerce friendly platform. This included product tagging features, shoppable updates for stories and checkout. Checkout allows Instagram users to buy from certain brands without ever leaving the platform just by tapping on a product in a brand's shopping post. Users then can keep track of their purchases with shipping and delivery notifications popping up within the app. Instagram was already generating sales on social media before 2019, but this move made it easier for entrepreneurs to sell more products by driving traffic to their websites.
With more users using their mobile to shop, in-app shopping is a great opportunity for businesses to provide easy access to product, enhance exposure and visibility and reach consumers in new way.
Live Rooms
In March 2021, Instagram launched the "live rooms" feature. This feature gives users the ability to "go live" on Instagram with up to three people – perfect for collaborations. Previously, users could only "go live" with only one other person in a live stream. This is yet another way that brands and creators can reach new audiences in a more personal way, drives sales, and engage with their community.
LinkedIn Stories
Professional networking platform LinkedIn has followed in the footsteps of other platforms, such as Instagram, Facebook and TikTok, by launching "LinkedIn Stories".
Similarly, the stories of images or videos are live for 24 hours and can be viewed by followers and connections. Users can add text, mention accounts, ask questions and add stickers to their stories. These stories aim to increase engagement and encourage more conversations on the platform.
Clubhouse
Clubhouse is an invitation-only, audio-only social media app where users can communicate in voice chat rooms that can host thousands of people. Not everyone in the virtual room can speak, but users can raise their hands and ask to talk. At first, existing users only have two invitations to send out, but the platform is apparently working on plans to open it up to the masses.
The audio-only app has been named 'the next big thing' – so I'll certainly be keeping a close eye on it over the next 12 months. Users can use the app to speak with friends and strangers or listen to famous and influential people. Some other social media platforms have begun to explore incorporating audio features to its platform, for example, Twitter is reported to be working on its own version of virtual rooms called "Spaces."
What to expect next from social media?
Social media advertising regulation
My prediction is that we will continue to see a rise in the regulation of advertising on social media. I believe brands will start to put suitable content creation and promotional content terms in place and consider this to be an essential part of a brand's reputation management. Please do get in contact if you would like to discuss putting an appropriate strategy in place.
Instagram for kids?
In March 2021, it was announced that Facebook is developing a child-friendly social media platform (for children under 13 years of age), which is similar to Instagram. Currently, under 13s are not permitted to use the app. It has already led to a lot of controversy with US law makers.
If you are a business who is designing an app, website, platform or other online services which are aimed and/or targeted at children, it is important that you adhere to the Information Commissioner's Office's Age Appropriate Design Code, otherwise referred to as the Children's Code. To find out more about the Children's Code, please read our article here.
At Stephens Scown, we are a full service IP, IT and Data Protection team. We have specialist lawyers within each of these areas, including social media advertising and influencer marketing. We advise businesses on influencer marketing compliance strategies, provide influencer marketing regulation training and draft bespoke influencer/content creator and brand endorsement contracts. Please get in touch if you would like assistance.
For more information on influencer marketing and social media law: