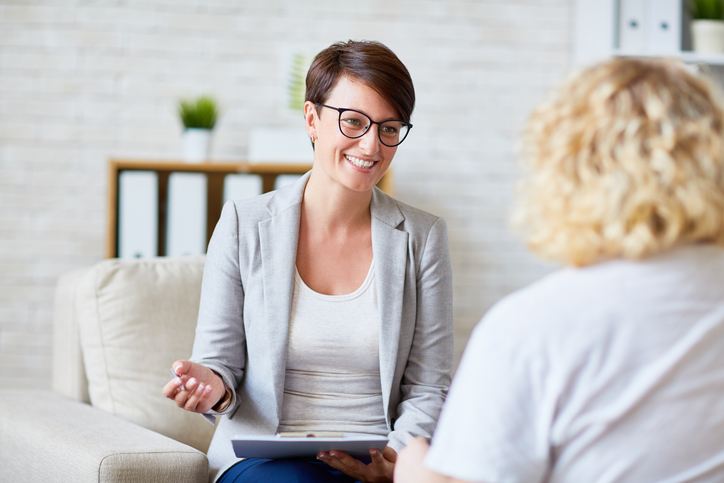 Getting divorced can be an emotional and expensive process, so how can you make the most of the time you have with your divorce lawyer?
This article was co-written by Claire Black, Divorce Coach, and Sarah Atkinson, partner in our Family team, who have worked together to provide some top tips for individuals facing divorce.
---
Having the right team in place to support you through a divorce is essential. Having the right people around you, giving you the right support at the right time, makes a massive difference to whether you feel in control of the process or out of your depth.
Nobody puts divorce on their bucket list for life – but if you are facing or contemplating a divorce, knowing how best to choose and work with your divorce lawyer will be hugely helpful.
In this article, Sarah and Claire give their top tips for choosing and working effectively with your lawyer – to get the best outcome for you, with the least stress.
Tip #1 – Get clarity
Choosing your divorce lawyer
Sarah: There are many lawyers out there to choose from. It is so important, given the very personal nature of family disputes (and the fact that going through a divorce means everything in your life is up in the air), that you choose someone you can work with and very importantly, who understands you and you understand them.
Information will make you feel much better prepared for what you have to deal with and will set your expectations as to what the future might look like.
Once the broad financial picture is known (which you might know, or might not, going into your first meeting) you should be able to expect a decent steer from your lawyer about what the financial outcome might look like. Financial disclosure is the first step and your divorce lawyer will need to ensure the full picture is available before they can advise you on suitable settlement proposals.
If, once the financial picture is clear enough, you do not get a good idea of what the range of potential outcomes might be, or don't feel that the solicitor you see understands what you want to achieve, do consider consulting another lawyer until you find the right fit.
There are many ways to approach resolving a divorce and financial settlement and understanding the personalities involved at an early stage should be key to deciding which route to take. If this isn't considered, you could spend a lot of money going down one track only to have to change and incur more fees later.
Facing and communicating your fears
Claire: There will be things that scare you as you go through your separation or divorce – and this is normal. Many of my clients are anxious about the process itself or feel afraid of what the future might hold. It can feel overwhelming and confusing.
The best antidote to overwhelm is clarity; knowledge really is power.
Ask your divorce lawyer to explain the process. Speak up if you don't understand. Ask questions. Get information about the options open to you.
Don't stick your head in the sand about the things that are scaring you. Be open and ask for advice, whether about your financial situation, what shared care for your children might look like, or anything else. Face those fears head on – even if you don't like the answers, at least you know, and you can plan for how you'll deal with it.
Tip #2 – Taking control
Focus on what you can do
Claire: Sometimes, it can feel like everything is happening to you; that it is all spiralling and you have no control over the outcome. Perhaps you feel frustrated because your ex simply can't, or won't, see your perspective.
It is so important to understand what you can and can't control and to shift your focus onto what you can control. By doing this, you take back your power and can start to make conscious decisions that are within your control.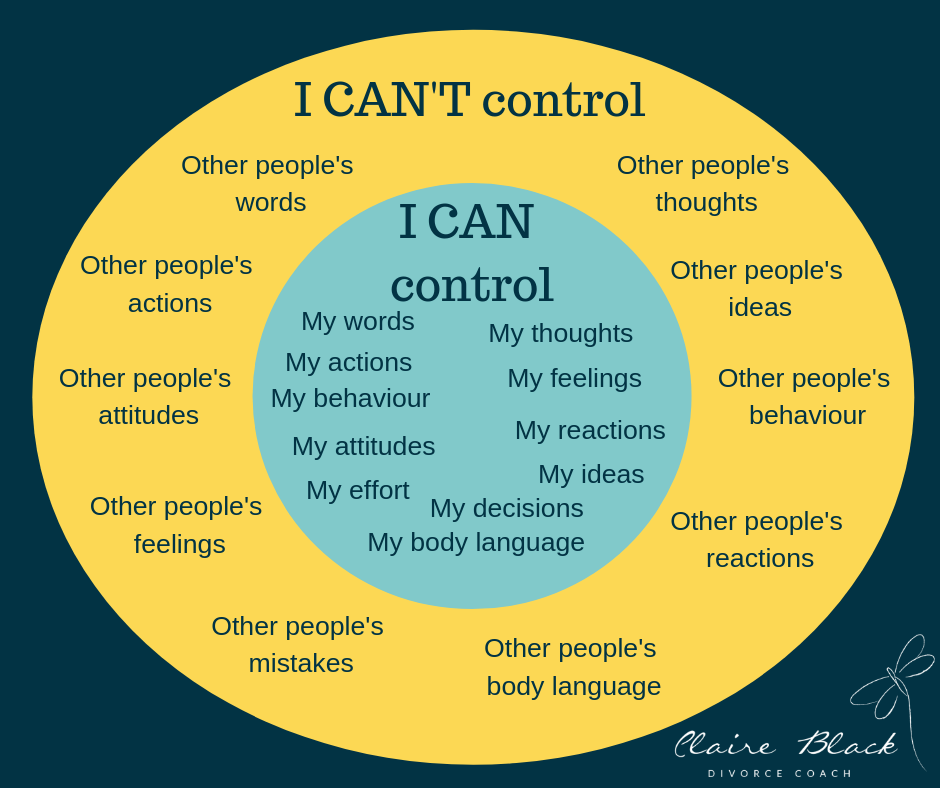 What you think about and focus on will influence your actions and your results, and the costs you incur. If you focus on trying to get your ex to understand, or change, you will end up frustrated when they just don't, and you could spend a lot of money getting nowhere.
Instead, switch your focus onto you:
What can you do?
What options do you have?
What support and information do you need?
With your divorce lawyer, work out what legal options are open to you, so that you can make informed decisions.
Understand how your divorce lawyer will charge you
Sarah: Make sure you get the information you need from your lawyer. Not just about the process and likely outcome, but importantly what it might cost you, how you will be charged and how you are going to fund it.
Most divorce lawyers charge based on how long they take doing work for you and time is generally broken down into 6 minute units. If an activity takes 2 minutes you pay for 6. Do bear this in mind. Rather than sending several small emails throughout the day as you think of questions, draft an email and send it later covering all your points in one email. When phoning your divorce lawyer, plan what you want to cover in the call and keep an eye on the clock. If you talk for 7 minutes you might as well talk for 12…
Consider how to manage these costs from the outset. Lawyers are an expensive source of emotional support, so instead, consider them to be one resource of many you will need to get through the process.
Early input from a divorce coach like Claire can enable you to clarify your emotions and thoughts and help you manage the legal process efficiently by enabling you to make big decisions when you need to. Counselling is also worthwhile if you find it hard not to get drawn into analysing the emotional aspects of processing the grief of the end of a relationship. Friends are a free source of this support but sometimes you will need somewhere confidential and guilt-free to offload.
Tip #3 – Making choices
Taking advice from your divorce lawyer
Sarah: Your lawyer's role is to guide you and explain your options clearly, giving you the benefit of their experience. However, they are not there to make the decisions – you need to hear their advice and decide for yourself which route to take.
If you really don't know what to do, a good divorce lawyer will recommend which option they think is best for you. If you find it hard to make decisions, support from Claire would help you understand and overcome the barriers to making those decisions.
Wider professional advice is key to making informed decisions and where complex assets are involved, your divorce lawyer should be drawing on wider expertise such as independent financial advisers, accountants, pensions advisers etc.
Remember you always have choice about which lawyer you instruct and what route to take to resolve your dispute. There are many available and you need to understand each:
Mediation;
Collaborative law;
Negotiation through solicitors and round table meetings;
Arbitration;
Private FDRs; and
The court.
Usually a combination of these is used. Ensure you understand each and you have input into how you spend your money to best effect.
Know that you have options
Claire: Always remember that you have choice, even though it may not feel like it at times.
For example, when you receive any email, whether from your lawyer or your ex directly, remember you have a choice about how you respond, when you respond and whether you respond. You can choose when you look at your emails, you can choose to wait at least 24 hours to respond, and you can choose to sleep on big decisions. When your lawyer sends you an email to review, take your time.
I often say to clients that if you believe you only have one option, you are stuck. If you believe you have two options, you have a dilemma. If you can find three or more options, you have choice – even if you don't like options one or two, you can still make a conscious decision to choose option three.
That feeling of having choice is empowering.
Tip #4 – Communicating effectively
Use the time with your divorce lawyer wisely
Claire: We all hear horror stories about mounting legal costs through divorce, so how can you communicate effectively to keep those costs from rising?
Avoid using your solicitor for emotional support. That's where a coach, like me, or a counsellor comes in. Although it might feel like an additional expense you don't need, working with a coach will enable you to feel calm, confident and in control of your feelings. That in turn will help you to make informed choices from a position of clarity – potentially saving you thousands in legal fees.
Stop, breathe, think, respond – use this mantra before you fire off any email. It might feel tempting to fire off an immediate response to an email that upsets you. Stop. Breathe. Think. And only then: respond.
Be clear and concise
Sarah: Try to make your instructions clear – inconsistent instructions create a lot of cost as your lawyer would have to review and check what you mean and whether you understand the implications. Ensure you understand the advice you are getting and do not feel afraid to ask for clarity if something is not explained properly.
---
Going through a divorce can be painful, confusing and overwhelming at times – so choosing your support team wisely is crucial. When you are in control of your emotions, and have all the information you need, you will be able to make informed decisions and communicate them clearly to your divorce lawyer.
If you would like to talk in confidence with Sarah or Claire about your situation and how we can help you, please contact us below.