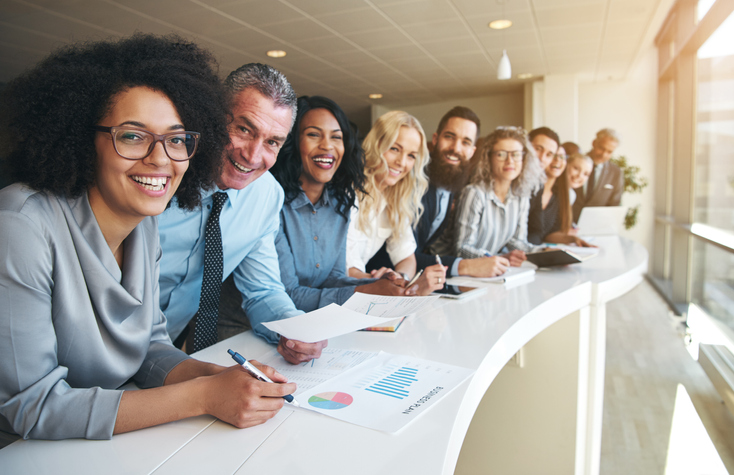 We are big advocates of employee ownership. Here are seven reasons why.
With co-owned companies tending to be more successful, competitive, profitable and sustainable, employee ownership (EO) is a brilliant way of doing business that offers benefits to business owners and employees alike. This article covers the seven top reasons why more and more businesses are considering the implementation of an employee ownership business model.
The employee owned business sector in the UK is growing, with the Employee Ownership (EO) Association reporting that the number of Employee Ownership Trusts (EOTs) has leapt from 461 in 2019 to an incredible 730 in June 2021. So what are the reasons for businesses moving to an employee ownership model?
Why Employee Ownership?
#1 – It gives you the edge in a competitive jobs market
The latest Quarterly Recruitment Outlook survey from the British Chamber of Commerce found that in the second quarter of 2021, 70 per cent of firms looking to bring on new staff said they were facing recruitment difficulties. In a competitive jobs market, employee owned businesses have the edge in attracting talented employees, because they have high employment standards, involve staff in decision making and give everyone a stake in the success of the business.
#2 – Staff retention, loyalty and longevity
Involvement in the ownership of the business and the inclusion of a wide range of staff in decision making creates a happy and more balanced staff culture. Because they're run in an open way, employee-owned businesses also tend to have a strong commitment to corporate social responsibility and involvement with the communities they operate in, further nurturing the feel-good factor for employees.
#3 – Employee ownership accelerates business growth
Every company that has become employee owned (even with a 10% shareholding) has encountered what is known as the "Whoosh Effect"; an unexpected surge in productivity as the company becomes owned by its employees.
Becoming an employee owner, it appears, has an empowering effect on employee engagement and their willingness to provide discretionary effort for the benefit of the business. There are few growth strategies that can provide a similar return for no significant outlay.
#4 – Employee ownership improves staff performance
Independent research suggests that a combination of shared ownership and employee participation delivers superior business performance. The EO Association reports that the top 50 employee owned businesses have seen a 4.6% increase in sales, a 25.5% increase in operating profits year-on-year, and a 4.5% increase in productivity year-on-year.
#5 – Positive employee owner mentality
Employee owned companies are more innovative because managers go out of their way to consult, share information about the company, and give staff responsibility. Thinking like owners can also lead to some great suggestions for changes that weren't on the management team's radar.
#6 – Succession without trauma
For many years the options for founders of a company wishing to move onto other opportunities or take a well-deserved retirement were limited to a trade sale or sale to Private Equity, a management buyout or winding up, all of which have their place but also have significant drawbacks. Employee Ownership, by contrast, offers an appealing exit plan for founders without the need to find a buyer, without a heavy due diligence process, on a timeline that suits the owners, while securing the future employment of the employees.
#7 – Employee ownership brings tax efficiencies
An added bonus of becoming employee owned is that there are tax savings for both the business and its employees, because governments know the value of EO businesses to the economy.
2014 marked a key turning point in the interest in Employee Ownership. Tax changes introduced that year meant that owners selling their businesses to the employees through an Employee Ownership Trust, could benefit from zero per-cent Capital Gains Tax and the employees could share in the fruits of the company's profits without paying income tax on the first £3,600. Though it took some time for professional advisors to become aware of these opportunities, a ground swell of interest developed, which has led to numerous companies successfully obtaining employee-owned status.
While the tax incentives may have been the catalyst in moving EO to the forefront of business discussion, it is the positive culture shift in the business, enjoyed by many employee-owned businesses, which delivers real growth and success for the business.
Having advised numerous clients on their transition to Employee Ownership, as well as drawing on our own journey to becoming employee owned, the team at Stephens Scown has expanded in 2021 to support the growing number of businesses considering Employee Ownership as an attractive option for succession planning and growth.
Email us below for a free 30-minute consultation.