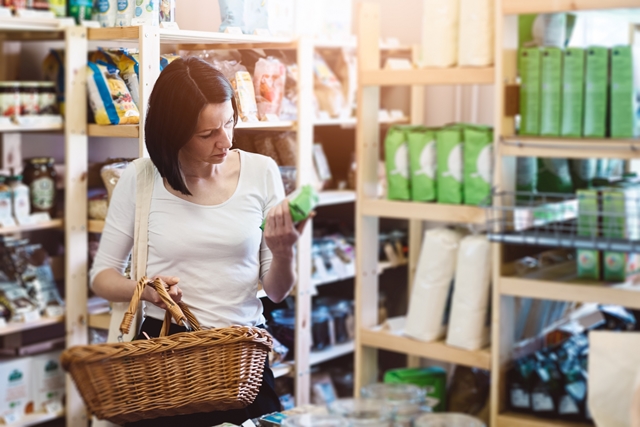 I was recently standing in my local zero waste shop (Fillfull in Ottery) which prides itself on being free from plastic, gluten and diary and it got me thinking about labelling. As someone who is a coeliac (which means I cannot eat gluten) I am constantly checking labels, but in shops where you decant your own goods how do the rules on highlighting allergens apply?
Allergen labelling: the law
All food businesses have to provide allergen information to consumers, handle and manage food allergens adequately and make sure their staff are trained regarding allergens.
Consumers need to know if any food products contain any of the following 14 allergens as an ingredient: celery, cereals containing gluten, crustaceans, eggs, fish, lupin (i.e. lupin flour), milk, molluscs, mustard, tree nuts, peanuts, sesame seeds, soybeans, sulphur dioxide and sulphites.
Allergen labelling for zero waste shops
The allergen labelling requirements are different for prepacked and non-prepacked goods.
Foods which are prepacked, for example a bar of chocolate, a sealed pack of crisps or a jar of sauce must be clearly labelled with all ingredients and allergenic ingredients must be highlighted in some way, usually in bold.
Food sold from zero waste shops is likely to fall into the non-prepacked category, for example cakes sold from a counter and packaged at the customer's request or oats decanted from a container on the wall. The rules regarding allergens for these non-prepacked goods are less stringent. You are required to supply allergen information in writing; however this can be done in a number of ways. You can provide information on a chalkboard i.e. cake contains tree nuts or you can place a written notice in a clearly visible position directing customers to ask staff about allergen information. If allergen information is provided as part of a conversation with a customer, this needs to be backed up by the written information i.e. in an allergy folder, to ensure it is accurate and consistent.
Penalties for failure to comply
Local authorities enforce allergen information regulations and you can be issued with a penalty for failure to comply. There is also the potential that someone could get seriously ill from a failure to provide the correct information and no one wants this.
The future
Last year allergen labelling was highlighted in the case of Natasha Ednan-Laperouse who died after suffering an allergic reaction to a Pret a Manger baguette. The baguette was  a non-prepacked food, as it was packaged at the same premises which it was sold, and therefore the less stringent rules applied. Pret did not individually label the baguette with allergen information and instead choose to display signs in the fridge and at tills telling customers with allergies to speak to a manager for advice or to see their allergen guide. This approach is inline with the current regulations. Following the tragic death of Natasha, Pret stated they would list all ingredients, including allergens, on its freshly made products.
At the time, Theresa May called for a review on food labelling laws and there is currently an ongoing government consultation concerning this issue which is due to close on 29 March 2019 (https://consult.defra.gov.uk/agri-food-chain-directorate/consultation-on-amending-allergen-information/supporting_documents/allergenconsultdoc%201.0.pdf). This consultation is only in relation to proposed changes to allergen labelling on food which has been packaged on the same premises which is it being sold, such as the Pret baguette, however the results may have a knock on effect for all non-prepacked goods and allergen labelling.
To avoid ending on a gloomy note, the zero waste idea is rapidly gaining pace, for example Nourish based in Topsham have recently acquired a new shop in St Leonards and it is an exciting time for consumers to investigate what they can do to 'help the planet'.
The labelling rules can be complex and allergens are only one area of labelling. You will therefore need to take advice depending on your particular scenario.
Jade Kent is a solicitor based in the corporate team in Exeter. If you would like to contact Jade to discuss labelling requirements or require any further information, please get in touch by telephone 01392 210700 or email enquiries@stephens-scown.co.uk.