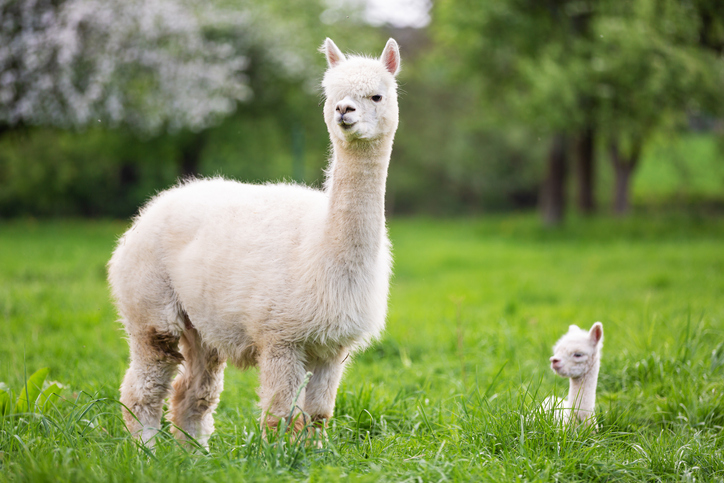 If you are renting out land for use by unusual animals such as alpacas, llamas, you need to be aware of the dangers and what type of tenancy agreement should be in place.
Most farmers and landowners will know that great care needs to be taken when renting out their land for occupation by horses. However, as llamas, alpacas, and other non-traditional livestock become an increasingly common sight in the British countryside, it is important to be aware that similar caution needs to be exercised if you are considering leasing your land for use by these more unusual animals, as well as for horses.
Renting out your land for use by animals
When you rent out your land for use by animals, you're likely to create one of three different types of tenancy – which type you create will normally depend on the purpose for which the animals are kept, rather than the species of animal, your intentions, or the wording of any tenancy agreement.
This is a reasonably complex area of law, but the general principles can be summarised as follows:
#1 – Common Law Tenancy
If your tenant is going to use the land to accommodate their pet animals then you will probably create a "common law tenancy".
Unlike the second and third possibilities below, this sort of agreement doesn't attract special protection from any Acts of Parliament, and so the terms will normally be those which you have agreed with your tenant (which, as always, you should ensure are recorded in writing, and ideally in a professionally-drafted tenancy).
This sort of arrangement would include the tenant grazing a pet llama or show alpaca, keeping poultry (provided there was no commercial trade in their meat or eggs), and the accommodation of the tenant's personal riding horses.
#2 – Farm Business Tenancy
If the livestock is instead going to be used as part of an agricultural business then the tenancy will probably become a "farm business tenancy" (or "FBT").
This would include animals that are raised on a commercial basis to produce food, wool, skins, or fur (or, somewhat unusually nowadays, animals serving as beasts of burden on a farm, such as oxen or shire horses).
Most traditional farm animals are caught by this definition, but it would also include (for example) alpacas kept for their wool, ostriches kept for their feathers and eggs, or buffalo and yak kept for their milk or meat.
FBTs can be created automatically (and accidentally) by landowners if they rent out their land to a tenant operating an agricultural business – this can create difficulties for the landowner, as the Agricultural Tenancies Act 1995 will then automatically insert several terms into the tenancy (overriding any agreement between landlord and tenant), often including a requirement to give a lengthy notice period to the tenant to bring the tenancy to an end.
#3 – Business Tenancy
The third possibility is the most dangerous for the landowner. If you lease land to a tenant whose animals are kept as part of a non-agricultural business, then you risk creating a business tenancy under the protection of the Landlord and Tenant Act 1954. This Act essentially gives the tenant an automatic right to keep renewing their tenancy unless you can establish a specific ground to evict them (such as that they have been in persistent breach of the terms of the tenancy, you require the property for your own business, or you wish to redevelop the land, all of which have a high burden of proof).
You could then be stuck with the tenant and their animals occupying the land for a significant period of time.
In the past, this situation has most frequently arisen when a tenant uses the land to operate a riding stable or livery yard for horses, but the same principle would apply to (for example) a tenant keeping alpacas or llamas as part of a trekking business, or as a "farm zoo" type tourist attraction.
Breeding alpacas (including running a stud) for sale as pets or show animals would also count as a non-agricultural business and would therefore produce a protected business tenancy.
Is the type of tenancy always clear?
It will not always be obvious which of these three categories a potential tenant's operations will fall into, and a tenant might also change the way they use the land during their tenancy, thereby creating further uncertainty for unprepared landlords.
The same alpacas could, for instance, be simultaneously kept for their wool and as part of a trekking business – or switch between the two. Uncertainty can also sometimes arise when the operator of a riding stable, trekking business, or stud is looking to rent land purely to provide additional grazing for their animals.
All these situations require caution and a full understanding of the prospective tenant's business and future plans for your land.
Taking advice when renting out land for use by animals
Taking legal advice at an early stage (and certainly before you allow a tenant to move their animals and equipment onto the land) can make a real difference in ensuring that the arrangement both protects your interests and contributes to your overall objectives for your land.
We can advise on all the options available to you and assist with drafting and negotiating an agreement that guards against the risks set out above while providing a clear framework for the future relationship with your new tenant.