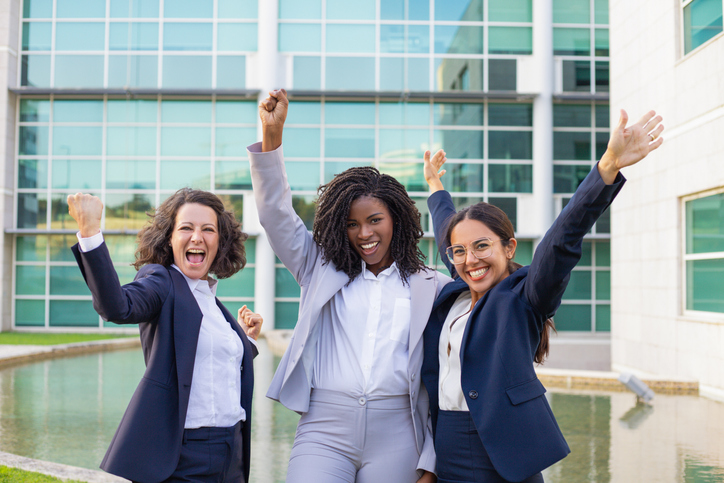 Today is International Women's Day and the theme is #BreakTheBias. In this article we look at how employers can better support women at work.
Every year, on 8 March 2022, International Women's Day is observed around the world. It celebrates the social, economic, cultural and political achievements of women and is a call to action to promote gender equality.
This year's International Women's Day theme for 2022 is #BreakTheBias. It may be deliberate or unconscious, but bias can make it difficult for women to progress. The first step is acknowledging that it exists, but action is needed to level the playing field.
Unfortunately, there is still a clear need to highlight women in society and the workplace to support achieving gender equality. The gender pay gap remains and female leaders are still lacking in many organisations.
The Covid-19 pandemic has exacerbated inequality between the genders, including with increased caring and domestic responsibilities being taken up by a greater proportion of women. Global data published by UN Women indicates the pandemic may have put back gender equality by up to 25 years.
It's been well established through research that having more women in the workplace and in leadership roles makes for a better place to work for all genders and better governance. So how can employers support women in the workplace?
How employers can support women at work
Offer flexibility
Caring responsibilities tend to fall more heavily on women with childcare, but increasingly, this also includes wider caring needs within a family, such as supporting aging relatives.
If employers want to retain women in an organisation, then allowing flexibility is key. If an employee has been working for an employer for six months, they have the statutory right to request flexible working arrangements. This can include working from home part or all of the time, or part-time working, and one statutory request can be made per year.
According to a survey published in October 2021, of almost 13,000 mothers, one out of two had experienced a request being turned down or only partly accepted by their employer. An employer does not have to agree to the request, but they need a sound business reason for turning it down.
With hybrid working and working from home becoming far more prevalent, along with recruitment and retention of staff a challenge, flexibility in the workplace is important for many employers to seriously take into account. See our article here for more information on flexible working requests.
Gender pay gap
The gender pay gap is the difference in the average earnings between men and women in an organisation.
The Office for National Statistics publishes data that among full time employees, the gender pay gap in April 2021 was 7.9%, which was an increase from 7% in 2020. Among all employees, the gender pay gap increased to 15.4% from 14.9% in 2020. Overall over the past few decades the gender pay gap has been narrowing, but it is a slow process.
Employers with 250 or more employees must publish information on their gender pay gap. Gender pay gap calculations will be based on payroll data drawn from a specific date each year referred to as the 'snapshot date'. Employers must report and publish their gender pay gap data within one year of their snapshot date. This means private businesses and charities must report 2021 information by 5 April 2022 and the public sector by 31 March 2022.
Addressing the gender pay gap is important for employers of all sizes when looking to attract, recruit and retain staff. For those employers that report and publish gender pay gap data, this can be quickly sourced by applicants and staff online via the government gender pay gap service. You can access that here.
Give women opportunities
Having more women in leadership positions and board roles means there is a more diverse skillset, experience, opinions and strategies in an organisation. This can lead to better governance and equality in a more representative workplace.
The push in recent years to more evenly represent women in UK boardrooms is making positive progress, with boards of the UK's largest 350 listed companies being at least 33% female on average by the end of 2020. Nevertheless, men still dominate the top ranks of UK firms, including with progress to be made on the highest executive roles such as CEO.
To encourage and support women to progress within organisations, employers need to be aware of potential obstacles in the way and address them. The glass ceiling is a term often used to describe a concept whereby women have reached a certain point in their career which could be the top of middle management and they are getting stuck. There is an inequality to progression and a widening gender pay gap.
Barriers to promotion can include a perception that a job has to be carried out full-time when a woman knows she needs to work flexibly or part-time to accommodate caring responsibilities. There is evidence that women are less likely to self-promote at work or have a senior sponsor to support them. Having an environment that encourages and facilitates the progress of women in their careers can benefit staff and the organisation.
Culture of equality
Only 19% of UK employees believe there is gender equality in their organisation according to recent research carried out by the technology company Samsung. Apparently gender stereotypes are firmly in place with 44% of workers believing that certain jobs are only for men or women. Furthermore, almost one in five women have not applied for a job being concerned of being discriminated against on the basis of their gender. Employers need to have a proactive role to play in tackling the culture in their workforce so it is inclusive and where there is bias, challenging this.
Women can be affected by 'unconscious bias', i.e. people making decisions that are unconsciously influenced by affinity bias, which is a tendency to favour 'people like us'. Individuals making decisions about recruitment and promotion are more likely to make decisions to encourage and support people that resemble themselves without even realising it. So, if there is an all-male panel for the purpose for a promotion, they may be less likely to favour female candidates.
To address gender bias and promote a culture of equality, employers should be transparent about hiring and promotion processes and consider rolling out conscious inclusivity training.
If you would like to discuss how your business can better support women in the workplace, please get in touch and our team would be happy to advise you.