The tourism, hospitality and events industry has been hugely impacted by Coronavirus (COVID-19). The lockdown imposed by the UK Government has meant that almost all of the businesses within the industry have been forced to close – or they have had to drastically change the way that they operate. 
This is a complex area often involving the interplay between contract and consumer law. The Competition and Markets Authority has also issued guidance but that does not apply in all cases. We have seen an increase in enquiries from businesses within the industry seeking advice on their rights in respect of customer refunds and/or deposits, the options available and whether certain contracts have been frustrated or terminated by virtue of force majeure. Some businesses have even been faced with customers threatening to or issuing small claims in the County Courts in respect of monies paid. 
At Stephens Scown, our expert Commercial Dispute Resolution team has formulated three packages, starting at £300 + VAT, available for the tourism, hospitality and events industry. These packages have been created by our specialist lawyers in response to the COVID-19 pandemic. All of the packages include an initial review of your terms and conditions to assess whether they provide you with any contractual or legal protection, COVID-19 guidance notes, useful flow charts to help you decide how to manage claims, a small claims guide and an alternative dispute resolution guide – as illustrated below (click the image to view full size).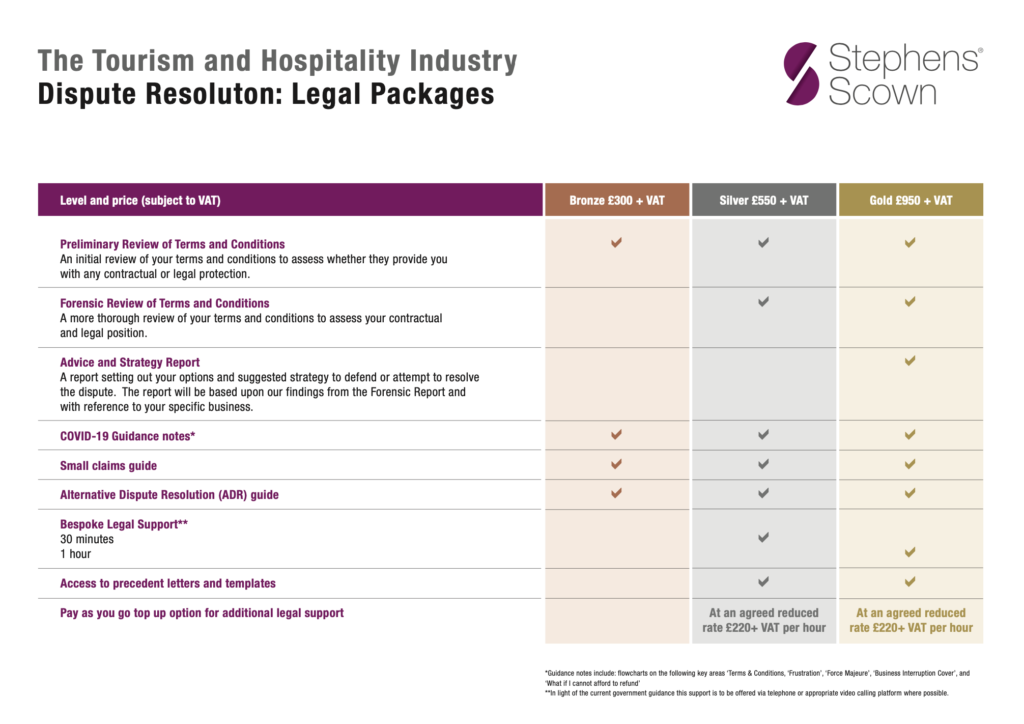 For further information on how to deal with matters relating to the Coronavirus outbreak, please visit our Covid-19 Insights Hub.