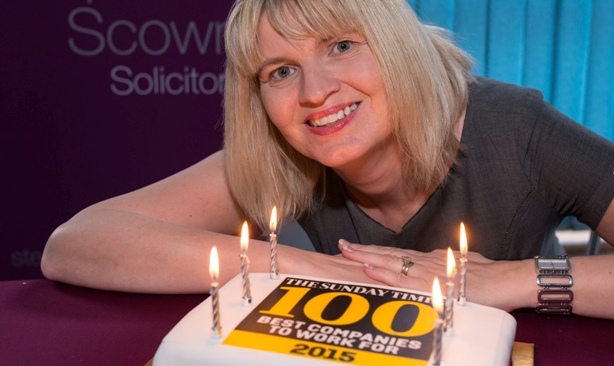 Stephens Scown has been named as one of the top 100 firms to work for in the UK, according to the influential Sunday Times list.
At a glittering awards ceremony in London on Thursday, 26 February 2015 Stephens Scown, which took part in the Sunday Times Best Companies survey for the first time this year, was placed at number 39 in the top 100 mid-sized companies list. The announcement was made by screenwriter and producer Richard Curtis at an event at Battersea Evolution in central London.The Sunday Times Best Companies to Work for is an annual survey and 2015 marks its 15th year. Designed to recognise the well being and motivation of employees, the survey is widely acknowledged as the most searching and comprehensive research into employee engagement in the UK and the results depend entirely on the opinion of employees.
Stephens Scown's managing partner, Robert Camp, said: "Stephens Scown's staff are our number one asset and I'm so delighted we've made it to 39th place in the top 100 list on our very first attempt. The result means so much because it is based entirely on staff feedback. We always aim to provide exceptional client service and having happy and motivated staff means that our clients will be happy too."
Commenting on what it is like to work for Stephens Scown, Jo Force, client care co-ordinator, who has worked for the firm for 28 years said: "My team is so supportive. It almost feels like a family. I know if I have a problem my colleagues will step in to help me no matter what it is."
Stephens Scown has undertaken an extensive programme of staff engagement including introducing new workplace choirs and encouraging staff involvement in charity and community events. Staff from across the organisation are also closely involved in the future direction of the firm, with volunteers running client service action groups and HR Focus Groups in each office to feed back suggestions to the Board. Staff are also encouraged to come up with ideas to improve the firm.  One recent example is a new Iphone App 'My Lawyer', which enables clients to keep track of their cases quickly and easily.