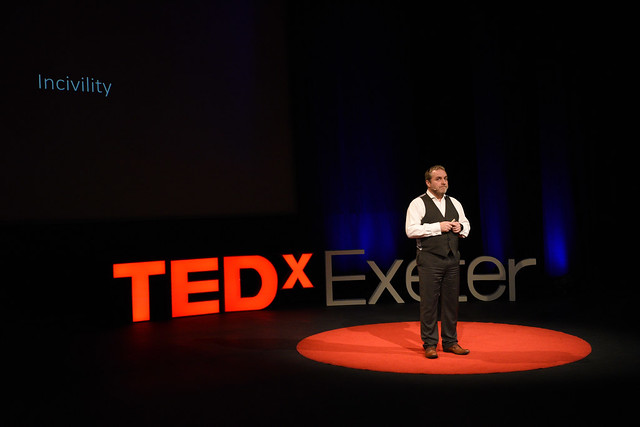 Listening to Chris Turner at TedxExeter I was truly inspired in relation to the impact that our behaviour has on our colleagues in the workplace. Chris Turner is the founder of Civility Saves Lives, which aims to raise awareness of the power of civility in Healthcare, however it has extreme relevance to all workplaces.
Listening to Chris made me grateful for working for Stephens Scown as I can proudly say that I work for a law firm which, for five years, has justifiably received recognition in being ranked as a great employer in the Sunday Times Top 100 medium sized employers.
When people are uncivil in the workplace this not only impacts on the recipient of the treatment but also on those who witness the behaviour. It is, I suppose, common sense that if somebody is trying to process the way in which they have just been treated there may be negative feelings for the employer or their work and these may well result in reduced productivity. Many however would not realise the extent that it would impact on bystanders. When there is uncivility in a workplace heads will go down across the workplace with people wondering if they will be next to be treated that way.
In most functional workplaces workers can feel like part of a cohesive team. Therefore if you treat one badly, others may well empathise with them. The incivility therefore impacts heavily on the productivity of a business as staff will be less productive and there is also the direct impact of time being lost while colleagues stop to comfort the person who has been treated badly.
As Chris Turner said "civility is the difference between ok and great". It is important to remember that employees, are at the end of the day human beings, they are not machines, unmoved by rudeness and a lack of empathy. In order to truly engage your workforce there are many things that you can do to actively encourage and achieve a positive environment. The ultimate goal for any business should be routine civility, as a minimum.
I am a firm believer in good communication being key to successful human relationships whether in or out of the workplace. As human beings we are often oblivious to the strains on other people and the pressures that they may be facing. During our team meetings we encourage people to discuss the morale within the team and whether there is anything affecting it. This can be as simple as saying "I've been under the weather" and might be a bit cranky today. This communication is key in helping us ensure that we recognise when other people are under pressure. I am not saying that we should allow people to excuse their behaviour in the workplace based on their personal circumstances but I am saying that everyone needs to be aware that every one of us has a micro world with which to cope. We need to be alive to the fact that everyone has different pressures and strains and we must work together to ensure the we are civil to one another.
Productivity will be vastly improved if incivility is eradicated. So what can you do as an employer to encourage civility your organisation
There should be focus on those being uncivil and on their wrongdoing. It is more impactive for people in senior positions to be uncivil to colleagues in junior roles. Junior colleagues should not have to apologise for seeking advice or instruction and being met with uncivil behaviour. The emphasis needs to be shifted so the focus is those being rude not their
Employee support programmes including telephone counselling services can be invaluable in preventing people being uncivil. I truly believe that there are not many people out there who start out the day thinking whose life can I make someone miserable today. However as we all know, real life pressures can make anyone act unpredictably. Offering employees access to counselling can improve their mood and their interactions with other members of staff.
Positive postcards or messages allow colleagues to show recognition of something which a colleague has done for them for which they are thankful. Shifting the focus onto recognition for positive behaviours is a great way to increase civility.
Making it clear that civility is required at all levels. Senior managers should be positive role models, not seen as being above the law.
Senior managers must model values and behaviours which they expect employees to demonstrate. As a base line, respect for one another is invaluable.
These are just a few examples of how we can positively impact on our colleagues and in turn increase productivity. HR and employment law should no longer be seen as purely focused on the law and legal requirements. You need to have a productive workforce and in order to achieve that you need to think about how employees' behaviours impact on your staff and not just be legally compliant.
HRExpress, our employer advice line, takes a rounded approach to ensure employers can reach the solution they desire in a legally compliant, and fair, way. We support businesses so that they can harness the full potential of their people and develop an effective, productive workforce. From our own experience as a firm, we know that having a happy and engaged workforce is critical to business success.