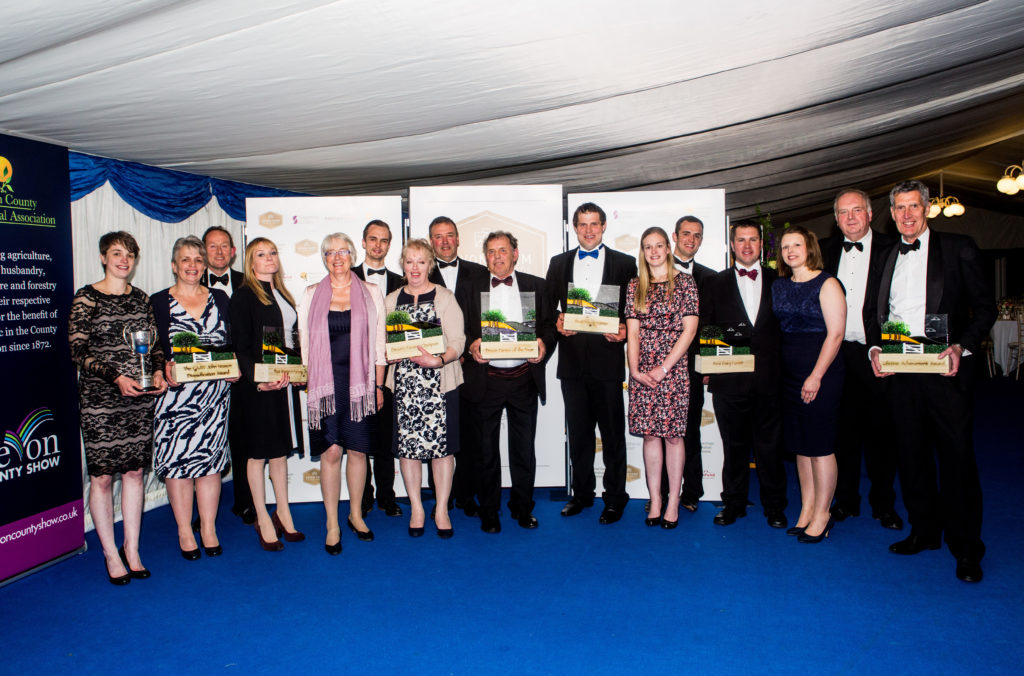 A farmer who has built up a thriving dairy farm from nothing, overcoming many challenges along the way, has been named Devon's Farmer of the Year at the Devon Farm Business Awards. This tenacity and perseverance is echoed in several other winners, including a single mother who runs her tenanted farm by herself and a beef and sheep farmer who stepped up to help her dairy farming friends by persuading her local supermarket to stock pints of milk alongside fizzy drinks.
The awards, which are in their fourth year, are organised by Addington Fund, Stephens Scown LLP and Devon County Agricultural Association. Designed to celebrate and showcase the best farmers and farming businesses in Devon, the awards took place on Wednesday, 17 May – the eve of the Devon County Show.
Ian Bell OBE, Chief Executive of the Addington Fund said: "The Devon Farm Business Awards are one of the highlights of my year. From reviewing the nominations to meeting the winners on the night – at every stage, I am struck by the quality of farming businesses we have here in Devon. As well as celebrating success, the awards help us to raise vital funds for the Addington Fund, which will be used to help provide housing for farming families who have to leave the industry through no fault of their own."
Phil Reed, partner and head of rural services at Stephens Scown said: "Passion and perseverance are crucial ingredients in any farm, and tonight's nominees and winners show what can be achieved with this attitude. Farming has long been woven into the way of life in Devon, and the farmers we are celebrating tonight show the valuable contribution that the sector continues to make to the success of the region as a whole. Hearing the stories of our nominees and winners it would be hard not to be impressed – they are doing Devon proud."
Mary Quicke MBE, Chairman of Council of Devon County Agricultural Association said: "Once again, our Devon Farm Business Award winners are demonstrating that, for all the current uncertainties, farming remains an industry of enterprise and opportunity.  They are an inspiration to their fellow farmers, and standard bearers for Devon farming to the wider world.  The Devon County Agricultural Association is proud to have been able to help give these outstanding farming people and businesses the recognition they deserve."
Devon Farmer of the Year – Colin Latham
Colin Latham of Higher Stowford Farm near Ilfracombe was named Best Commercial Farmer (sponsored by PKF Francis Clark) and went on to win the night's biggest prize, Devon Farmer of the Year (sponsored by Mole Valley Farmers). Colin, along with his wife Glenys, have built up a 4.5 million litre dairy unit from almost nothing and impressed the judges with their tenacity and ability to create opportunities out of adversity.
Colin worked on his father's farm, but when it was sold, he was left unemployed and with no resources in his early 20s. Colin and Glenys managed to secure and make a success of Devon County Council farm tenancies in the 70s and 80s, and today, along with their sons Geoff and Ian, own around 300 acres and rent a further 600 acres – including one of their original tenant farms. At their first farm tenancy they built up a dairy herd of 45 – they now milk 540 cows.
Colin's road to success has not been easy and he has overcome many challenges, turning them in to opportunities. He lost 3,000 animals to foot and mouth disease in 2001, but used the capital to help purchase more land. When he received a notice to quit his tenant farm he used it to help secure planning permission to build a family home and cattle shed at Higher Stowford. When one of his sons suffered a serious quad bike accident on a steep part of the farm, Colin decided to plant the area with trees. The woodland was eventually sold, releasing more capital to buy more productive land.
In Colin's words: "I love the job and I love the challenge. If I was 24 again, I wouldn't change a day."
Lifetime Achievement Award – Lord Lieutenant of Devon, David Fursdon
Lord Lieutenant of Devon, David Fursdon received the Lifetime Achievement Award (sponsored by Cornish Mutual) in recognition of his major contribution to the agricultural industry – an influence that looks set to continue to shape the future of farming in Devon and beyond for many years to come.
A chartered surveyor, past Chairman of Devon CLA and past national President of CLA dealing with the turmoil of Foot and Mouth Disease, David has also held the position of Crown Commissioner, Board member of SWARDA, DEFRA'S SW Rural and farming network and James Dyson's Beeswax farming company.
David's Future of Farming Review has had a major impact on farming and will continue to do so. With a focus on the people behind the farms, and the importance of progression and encouraging new entrants in to farming, David has put his report into practice on his own estate, giving a young family an opportunity to farm.
Best Dairy Farmer – Tim Rich
The Best Dairy Farmer award (sponsored by Crediton Dairy) went to Tim Rich of Broadley Farm near Honiton. Tim impressed the judges with his astute business sense. His passion for cows and natural ability as a stockman, along with his hard work and commitment has seen his farm turned around, with animal welfare his top priority.
Best Woman in Farming – Rachel Leonard
Rachel Leonard of Northcott Barton Farm, Chumleigh was named the Best Woman in Farming (sponsored by NatWest). She does all of the work on this 190 acre beef holding on her own, as well as raising her daughter as a single parent.
A first generation tenant farmer, who has built her herd up gradually over the last 13 years, Rachel's passion for her cows and the countryside are evident the moment you first meet her. Not only does she have an infectious enthusiasm for all that she does she passes this on to others, regularly helping to educate the guests staying in the farm's holiday cottage.
CAAV John Neason Diversification Award – Len and Angela Bartlett
Len and Angela Bartlett of Hayne Farm and Bartlett's Farm Shop near Honiton received the CAAV John Neason Diversification Award (co-sponsored by CAAV and Devon County Council).
When the Bartlett family took over their 400 acre rented farm in 2009 there was a small farm shop, but in the intervening years the family has developed Bartlett's Farm Shop into a must visit local retail outlet, which employs five full time equivalent members of staff.
Run by Len and Angela's daughters Rebecca and Nicola, with help from their son Daniel, the farm shop sells beef and lamb produced on the farm, as well as supporting 30 other local producers. The family opened a coffee shop in 2012 and during the quieter winter months provide breakfasts to a number of shoots. The business also has expansion prospects and the family is now investigating the possibility of setting up a small scale dairy processing business to sell products through the shop.
Devon's Farming Champion – Sylvia Crocker
The winner of the Farming Champion award (sponsored by NFU and NFU Mutual) is Sylvia Crocker whose 'milk and sarnies' campaign has persuaded her local Tesco supermarket to display pints of milk as a convenience drink, alongside sandwiches and fizzy drinks. Although she runs a tenanted beef and sheep farm at East Raddon Farm near Okehampton, she was inspired to support her hard-pressed dairy farming colleagues.
Positive sales figures from her local supermarket have led to other stores in the South West and Swansea following suit, with the possibility that the idea may spread nationwide. Sylvia has also approached other supermarket chains with the idea.
Best Young Farmer – Richard Tucker
Richard Tucker of Ditchett Farm near Tiverton won Devon's Best Young Farmer award (sponsored by Savills). The judges described Richard as a "very impressive young man". Having experienced various types of farming across the country, Richard returned to the family farm to concentrate on developing the dairy herd. Milking 240 Friesian/Jersey cross breeds his cows look fantastic and are performing well.
Richard's ability and reputation are creating opportunities to take more land and, although a tenant, he is investing in better buildings and equipment but on a very ambitious repayment schedule to limit his long term exposure to debt.
The winners each received a hand made trophy created by local fused glass designers Mother and Daughter Glass from Plymouth.
More information about the awards and the work of Addington Fund is available on www.addingtonfund.org.uk/events.