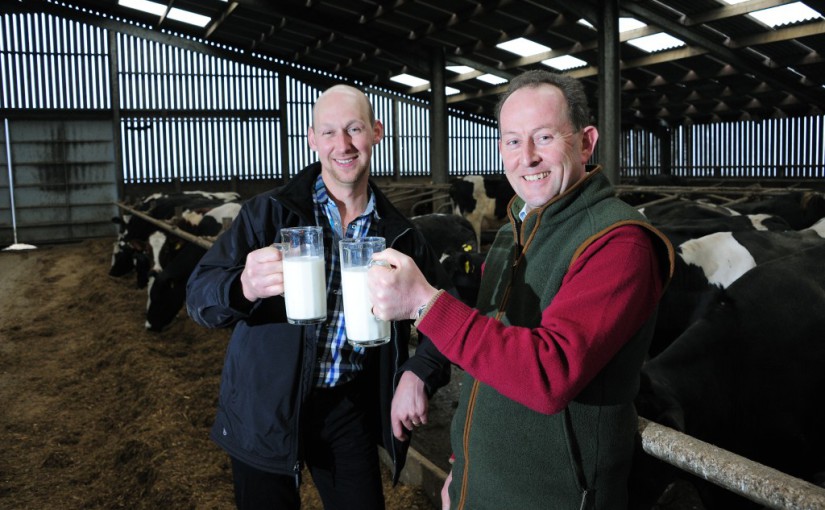 The struggling dairy industry has today (March 18) received a welcome boost after the results from a new poll reveal that people are willing to pay more for regional dairy products if it helps safeguard the industry.
The news will come as some relief to Westcountry dairy farmers who are continuing to battle record low milk prices.
The findings from the survey, which was commissioned by Stephens Scown, polled more than 1,000 people across Cornwall and Devon. To coincide with the results, the regional firm of solicitors has also launched a new dedicated website to help raise awareness of the industry – www.supportswdairyfarmers.co.uk – along with a pledge, encouraging the public to buy Westcountry dairy.
The report shows 85% of people are prepared to pay more for local dairy products if it helps secure the long-term future of milk production in the region. And almost half of those interviewed (42%) are willing to pay at least 20% more for the dairy they purchase.
The findings also reveal that 82% of those interviewed understand and appreciate local farmers are not being paid enough for the milk they produce. And whilst 87% of people said they prefer to buy local dairy products, only 11% currently do so regularly.
"Here is the challenge," said Phil Reed, partner and head of the rural team, at Stephens Scown.
"There is strong intent for people locally to support the dairy industry but there's lots more that can be done to convert sales at point of purchase. We know first hand what the current milk crisis means to dairy farmers and we want to help to encourage as many people as possible in the region to make a pledge to support the industry and therefore actually commit to buying more local dairy. Our rural services team works with many dairies and dairy farmers and we understand there is a need to do something on a regional level that can truly make an impact. We feel this is just the beginning of an exciting journey."
Dairy farmer Matthew Rowe, of Two Waters Foot near Liskeard in Cornwall, welcomes the findings.
"This is something to celebrate, especially after months of negative headlines. Whilst this isn't going to change purchase habits overnight I hope that by taking a pledge to buy local dairy it will make people stop and think when they're next shopping. If everyone across Cornwall and Devon makes a conscious decision to buy more dairy produced on their doorsteps it will certainly help boost the industry. Hopefully lots of people in the region will log on to the new site and pledge their support."
The report also reveals that 78% of people would buy more local dairy products if they are clearly identified as local and seven out of 10 people questioned, admitted they'd be prepared actively to support a 'buy local' dairy campaign.
Ruth Huxley, managing director, Cornwall Food & Drink, acknowledges that a clear sense of identity on a product goes a long way in helping consumers make more informed purchases.
"A product that tells a story of integrity, quality and provenance is a story that consumers are eager to hear and the results from this study prove people will pay good money for local dairy produce," she said. "The findings from this report have also highlighted that there's a real appetite for residents in Devon and Cornwall to understand better and to appreciate where dairy products come from."
Michael Smith, chairman of Food & Drink Devon, said: "What's apparent from the results of this survey is that there is real intent to do more to support our regional farmers. South West dairy farmers need our support and if we don't take action the years of falling milk prices will spell an end to the fresh, safely produced dairy products we now take for granted – dairy farmers are essentially being put out of business."