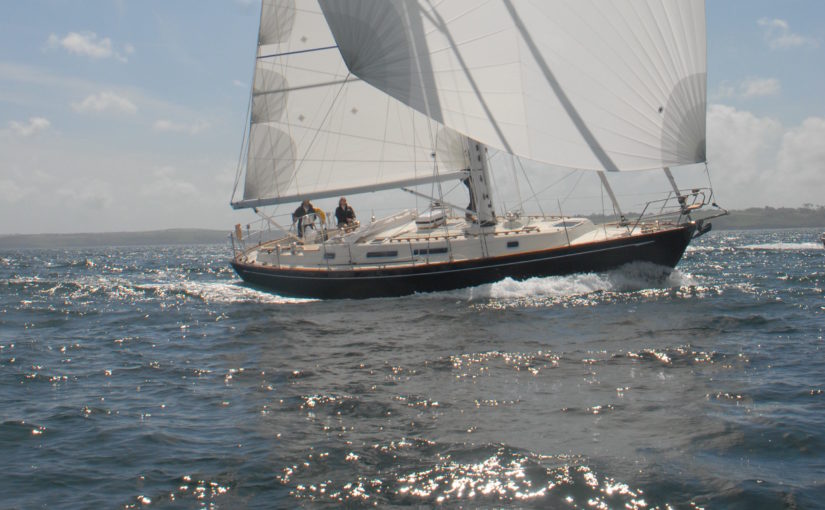 Rustler Yachts has made its name for its traditional, well-built cruising yachts. The business is embarking on an exciting new project as it develops it first 57ft vessel. Robert Brightley, from our marine team, has advised Rustler Yachts on the legal issues around the investment it required to develop the R57. We caught up with Adrian Jones, director of Rustler Yachts, to find out more about the business and the beautiful yachts it produces.
What is the history of Rustler Yachts?
Rustler Yachts was established in 1985 in Falmouth and we moved to our current site between Falmouth and Penryn in 2000. We have experienced steady growth and until now have been building boats in the 24-44 ft size range. We employ 45 people, many of whom are highly skilled crafts people. All of our yachts are entirely hand built here to the highest specifications.
What makes a Rustler Yacht so special?
We place great emphasis on quality and craftsmanship. Our customers are involved throughout the build process, making decisions all the way through to ensure that they end up with exactly what they want. Because of that, each of our yachts are unique. Each year we only build around five boats over 37 ft and six or seven smaller boats. That gives you an idea of the amount of work that goes into each one.
Tell us about the new R57
The Rustler 57 will be our first 57 ft yacht. After a year of design development, we have secured the investment we needed for the next stage of the project. The work to create the mould will start in September and it will be ready by the end of the year. We have already sold our first R57 and will start building it early next year. We have had a lot of interest from other customers. We find that our customers are very loyal to us, and often buy another yacht from us because they enjoy their first Rustler Yacht so much.
Do you have a typical customer?
Most of our customers are from the UK, but 20-30% of our turnover comes from international sales. No one country dominates internationally – we have recently sold yachts to customers in the US, New Zealand, Australia and Europe.
How important is your location in Cornwall?
Cornwall is a great place to be based, and it is certainly a bonus for our customers who enjoy coming down to visit us here. We always take photos and videos of our yachts in Falmouth Bay to give that sense of place in our marketing materials. However, at a big boat show, we tend to focus on 'handmade in the UK' as a main message, as the precise location of the yard is not so important to the potential buyers we may meet there.
Has your business been affected by Brexit?
The currency fluctuations caused by Brexit has meant an immediate increase in the cost of our materials. In the longer term, we hope this is off-set by an increase in interest from international buyers attracted because of the value of the pound. However, buying a yacht is a major investment and takes a long time for customers to act on, while material costs go up straight away.
What is the best boat you have ever sailed?
I love our Rustler 42. It is a great sailor's boat and out of all of our yachts, it is the one I've got most experience sailing. Over the last ten years I've also really enjoyed sailing the Falmouth Working Boats.
What is your favourite water based journey?
My background is in racing, so rather than thinking about an amazing long-distance sail overseas, my favourite memories on the water are always when I was winning!
For more information about Rustler Yachts, please visit http://www.rustleryachts.com/ 
Stephens Scown are proud to work with many of the most prominent names in the marine sector throughout the region, advising them on a wide range of legal and business issues.  If you would like information in how we could help in this specialist sector please either call 01872 265100 or  www.stephens-scown.co.uk/business/specialist-sectors/marine/