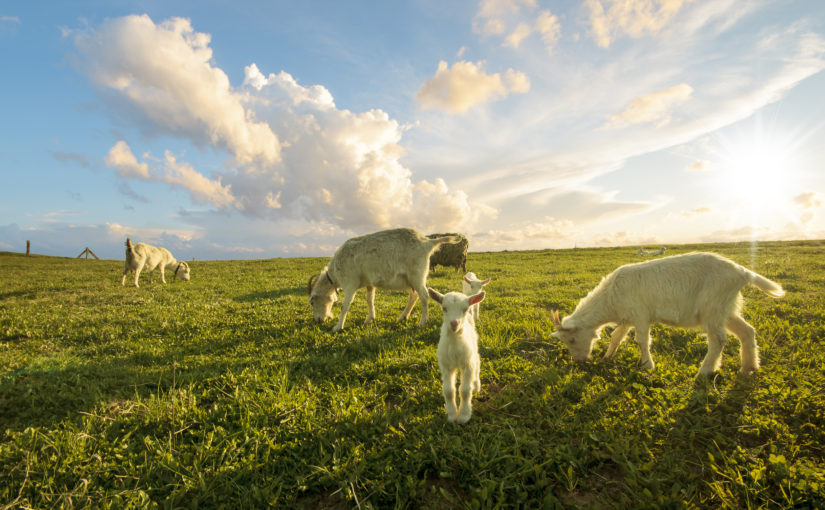 Never be afraid to try new things! Our client, property developer and Instagram travel blogger, Hazel Blamey shares her experiences of goat yoga.
"Is that really a 'thing'?" is usually the response I receive when I tell people I enjoy Goat Yoga. It is – and I am here to tell you that it's both fabulous and a little bit bonkers.
I heard about Goat Yoga on Countryfile and was determined to have a go. Fans of the Archers will also be familiar.
One weekend I was visiting a food fair and I picked up a leaflet offering sessions at Dartington Dairy, I quickly signed up and a week later I was walking up the farm track with my trusty yoga mat stowed under my arm.
A tour of the dairy with John the farmer was first on the agenda and I also booked the goat milking experience (definitely one to tick off the bucket list!). The farm is an utterly delightful, traditional dairy farm of mischievous goats and exceptionally pretty Jersey cows. They offer tours, experiences and have a small shop selling their produce, including the most divine goat milk ice cream (the salted caramel is heavenly).
The group nervously entered the beautiful barn and the yoga began. Classes are run by Donna, who commands the session with ease and grace despite the mild chaos surrounding her. Eight small and completely adorable goats were released into the barn and Donna focused on asanas with an animal theme.
We were told that the goats would be nibbly and naughty, so I ensured that every strand of hair was pinned and any loose items of clothing were safely tucked in. However, after observing that the goats were interacting primarily with the looser-haired, more flowing garment among us, I quickly pulled out my ponytail and received more attention! Goats jump on your back mid cat/cow, over your legs during a cobra and try to knock you off balance during a challenging eagle pose!
The inevitable mishaps were expertly cleared away by Donna's willing assistant; this is the country after all! I can't say that this was a dedicated yoga practice. However, as we flowed from pose to pose whilst being jumped on, nibbled and nuzzled, we chuckled, smiled and felt a little warm and fuzzy inside. At the end of the session we all laughed, moved and in the truest sense, felt very present and mindful. If that doesn't raise your dopamine levels, I don't know what does.
Will I do it again? You bet your downward goat I will…
Hazel Blamey
Instagram: @thelifescaper