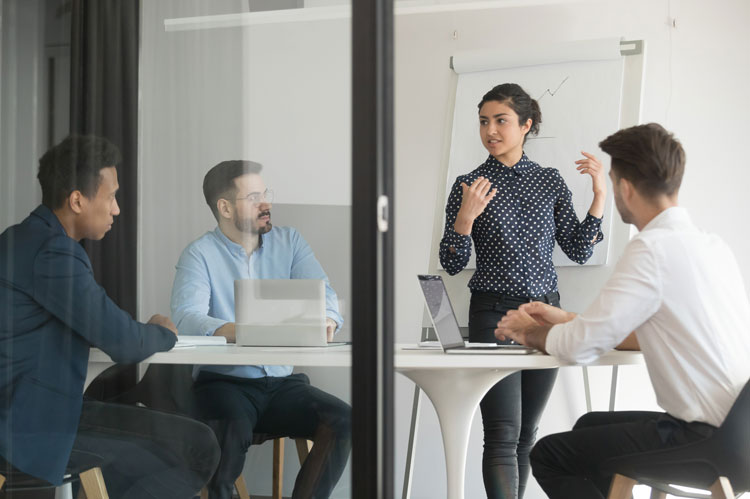 It is important that your managers are well prepared to handle HR issues effectively to prevent exposing your organisation to risk. Mark Roby reviews why training managers in HR and performance management is essential.
Why is training your managers in HR important?
There are a whole host of reasons, but here's our Top Five:
Poor people management practices lead to an increased risk of employment litigation and put you in a poor negotiating position if you look to settle. Facing an Employment Tribunal claim, whether for unfair dismissal, or for discrimination (compensation in the latter being uncapped) is costly whichever way you look at it: the costs of management time to deal with it, legal advice costs, and compensation if you lose the case.
Good people management minimises those disruptive staff issues like high sickness absence rates, underperformance, grievances, misconduct, and conflict within teams.
Retention. Recruitment and retention are extremely tough in many sectors. Many surveys reflect that the number one reason for people leaving an organisation is their line manager. Equip those managers with better skills to manage your people and you increase the chance of retaining your talent.
Performance. A manager equipped with skills and knowledge in managing people is in a much better place to drive productivity and higher levels of performance within teams.
Your Reputation. Aside from facing negative publicity in an Employment Tribunal, poor people management practices inevitably get discussed in your communities (whether online or in person). Your people management is part of your brand, and poor practice can lead to that brand (and your business revenues) being damaged.
Training managers – how can we help?
One of the things we love to do within our Employment team is to provide training to our clients on how to manage HR issues more effectively.
We recently delivered a bespoke training programme for a large client on the difficult issue of performance management.
Due to Covid restrictions, and geographical reasons, we delivered the training in a series of pre-recorded webinars, enabling the client to roll the sessions out to their leaders when most convenient to them.
For another client, we ran a series of sessions covering short service, disciplinaries, grievances, and sickness absence.
We love to deliver sessions face-to-face but appreciate that for some clients a recorded webinar, or a live Teams call, is the preferred option for delivery. We can deliver short briefings covering the key issues, or more in-depth half day sessions to explore a topic in greater depth, depending on your time availability and your budget.
Performance management training
Performance management is a continual process that is crucial to an effective and productive workforce; this involves making sure that the performance of employees contributes to the goals of your organisation and may consist of motivating employees to perform better in their role or ultimately to exit an underperforming employee without undue disruption and cost to your organisation. When making decisions as to the best approach to take in terms of performance management, it is important that you have a thorough understanding of the risks of unfair dismissal and discrimination claims if you carry out an unfair procedure.
Our performance management training is suitable for managers, directors or trustees who are likely to deal with performance issues in the workplace, whether informal or via a formal process.
Our sessions can provide you with the essentials of performance management and an understanding of how to implement a fair and successful performance management process in the workplace. For example, we can cover:
What constitutes poor performance;
How to deal with poor performance;
The legal framework;
Case studies;
Complications – grievances, sickness absence;
Possible alternatives to performance management; and
Practical tips for employers.
What other topics can we cover?
Performance management is far from the only subject we deliver training on. Other topics include:
Sickness Absence;
Disciplinary;
Investigations;
Grievance;
Equal Opportunities;
Anti-Harassment and Bullying;
Managing Probation and 'Short Service';
Appraisals;
Managing Difficult Conversations; and
Employment Law for Managers – an introduction.
If you're concerned that your managers are not as equipped or informed as you would like, to manage HR issues effectively, and are exposing your organisation to heightened risks of Employment Tribunal claims and bad publicity, get in touch for a no obligation call on how we might help.