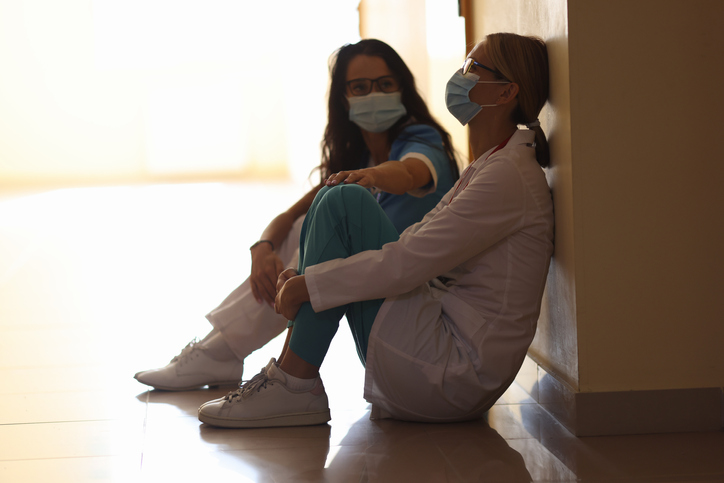 When is an employer considered to know about invisible disabilities and mental health illnesses, and what should they be doing to support staff and avoid discrimination claims?
As we reach the two-year anniversary of the first Coronavirus pandemic lockdown, employers have had a great deal of information as to the lasting effects of the virus on the well-being of their employees; specifically any negative effects on their mental health.
According to the Mental Health Foundation, mental health problems in the workplace are the leading cause of sickness absence and employers are legally required, under health and safety legislation to take measures to ensure their employees' health and safety in the workplace. Additionally, if their employees have healthcare conditions which amount to disabilities, then in the absence of support through reasonable adjustments, there is a real possibility of disability discrimination claims.
Can an employer be liable for disability discrimination, discrimination arising from disability or failure to make reasonable adjustments when it says it does not know about the employee's disability? We shall deal with this below.
What is a 'disability' in the legal sense?
Disability – either physical or mental – is a protected characteristic under the Equality Act 2010. A person has a disability if they have a physical or mental impairment, and the impairment has a substantial and long-term adverse effect on their ability to carry out normal day-to-day activities. A mental health problem will be classed as a disability in legal terms if it meets that criteria, regardless of whether the employee or employer actually considers it a disability or is even aware of it.
When is an employer considered to know about the disability?
A common issue for employers is that they may not be made aware of an employee's disability, especially when the employee is perhaps unsure of the disability themselves. This is particularly relevant in the post-pandemic world.
When an employee tells an employer about their disability or gives examples of how their illness affects them daily, then knowledge cannot be denied. However, where there is an "invisible" disability, the line of knowledge blurs. On the one hand, the employee may not be aware of their disability, but on the other hand may be acting in a way which drew the employer's attention to behaviour that was uncharacteristic or even bizarre.
How Courts view employment claims relating to invisible disabilities
Employers often claim that despite the evidence of their own senses, they were not aware of the employee's disability. Tribunals have become less tolerant of such attempts to escape liability.
The Employment Appeal Tribunal (EAT) has provided interesting guidance in the recent case of Bennett v Mitac Europe Limited [2021] considering the question as to when an employer may be deemed to have that knowledge. Although Bennett v Mitac was primarily an associative unfair dismissal case (a claim by the Claimant (who was not disabled) that he had been unfairly dismissed because of his close association with his manager who did have a disability), the judge noted that one of the points the tribunal had to establish was when the employer should have been aware of the third party's disability.
Background of the case
The Claimant and his manager worked in sales/marketing. The manager became disabled with cancer. A decision was taken to cease the work done by the manager and the Claimant, resulting in both being dismissed. The Claimant made a claim of direct disability discrimination.
The Employment Appeals Tribunal rejected the notion that deemed or actual knowledge of the disability requires that there has been a medical diagnosis. In this case, the manager had suspected he had cancer and had communicated this to his employer. The Respondent however argued that they were not aware of his cancer diagnoses until the date of his actual medical diagnosis.
The appeal judge stated that "if a disability is undiagnosed and unsuspected by the employer it will not be possible for the employer to have discriminated because of it. On the other hand, if a person does have cancer, and the employer believes that to be the case, disability and knowledge can be established before a medical diagnosis has been obtained.
I consider that an employer's attitude to a person who is unwell, but not known to be disabled, could be relevant to determining the reason for the treatment of the person once it becomes known that the ill health constitutes a disability.
If a person has cancer but does not seek medical attention, so never obtains a diagnosis, that would not mean that the person did not have cancer and so was not disabled."
Applying this principle to mental health illnesses and invisible disabilities
This raises the question as to when an employer is on notice of an employee's "invisible" disability if they have not expressly been made aware of the disability. It is consistent with established case law that if an employers' managers see, hear or otherwise have first-hand evidence that an employee is unwell, whether or not the employee has reported a disability, then it is likely that the employer will be deemed to have had knowledge of the disability, and its legal duties will be triggered.
It is common knowledge that mental health issues frequently go undiagnosed and the current burden on the NHS and backlog experienced by GPs may mean that more employees with mental health issues are unaware of exactly what their illness is and whether it may potentially be classed as a disability. This then has a knock-on effect with employers who, in turn, may (subject to the above criteria being met) have been classed as having deemed knowledge of an employee's disability without the employee having been medically diagnosed.
What can employers do if they notice an employee's change in behaviour?
Of course, most employers are not medical experts and so tribunals will reach determinations on the basis of any evidence they have before them using common sense. It is therefore vital when dealing with employees who either exhibit changed behaviours, or give employers hints/clues that all is not well with them, that employers investigate this to consider what (if any) reasonable adjustments are necessary. Here are some key steps you can take when approaching the topic of invisible disabilities:
Firstly:
Gather evidence of the changes or warning signs; and
Have a supportive conversation with the employee to establish the facts.
It is for the employee to disclose their illness/condition. They cannot be forced to do so.
It remains for the employer to act on the evidence it has gathered and the responses received from the employee to then take the next steps, which may require medical reports from the employee's GP, an OH or another appropriate medical expert. There is no "do nothing option". The conversation with the employee can of course be made easier if, for example, an employee has self-certified their sickness and described the type of illness/symptoms they have been experiencing – but this also requires the employer to be alive to what appears on self-certification and also fit notes.
A referral to Occupational Health is likely to provide employers with really crucial assistance. The key message to take away from the Bennett v Mitac case is communication; this should be a collaborative exercise and employers should not presume that because an illness has not been medically diagnosed at the point in time that the employee raises awareness of it, that the employer will be protected by its blissful ignorance.
If you would like advice on how to approach the conversation around invisible disabilities with your employees, and ensure that you are protected from claims, please get in touch and our Employment team would be happy to assist you.