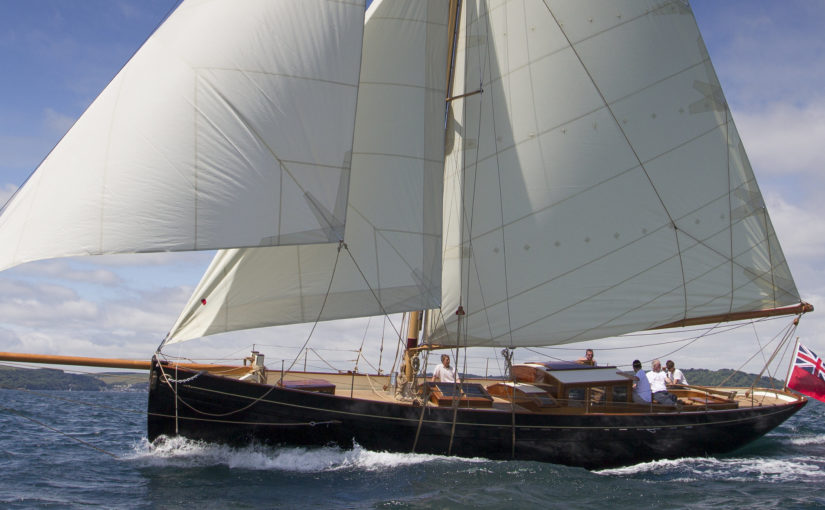 Our marine team works with lots of local marine businesses, big and small, advising them on a wide range of legal and business issues. We recently helped our client Butler & Co Traditional Wooden Boats with the sale of Old Mill Boatyard and the purchase of Penpol Boatyard, and took the opportunity to ask owner Ashley Butler a few questions about running a marine business in Cornwall and what the future holds for them.
What is Butler & Co Traditional Wooden Boats?
Butler & Co Traditional Wooden Boats is a small, family-run business focusing on building and restoring traditional wooden boats and offer general boatyard services, for example maintenance, building, restoration, lifting and storage.
Why wooden boats?
I grew up around wooden boats and was attracted to their aesthetics and solid, honest feeling. I personally prefer working with wood as my medium. A wooden vessel has a soul that I have never found in any other type of construction.
It's not a highly competitive market. There are only about half a dozen established wooden boat builders in the UK that are consistently building vessels, half of these are in Cornwall. The individual styles of the builders tend to attract different clients.
How would you describe your typical customer?
Our clients come from various professional and industrial roles, generally frustrated with spending their lives behind a desk. The romance of a wooden boat is a kind of escapism! Our clients are not confined to the south-west or the UK.
There isn't a high demand for wooden boats, which suits us as it takes 12 months to build a medium-sized (40ft) yacht. There is greater demand for restoration, partly due to preserving our maritime heritage and partly due to the lack of public knowledge regarding the availability of new-build, traditional vessels.
What is the best thing about running a marine business in Cornwall?
We were drawn to Cornwall because of the amount of skilled people in the industry. Even the most specific requests can be met because of the broad skill base that exists here. Like us, generally most businesses in the sector are small and comprise of a few people. There is a synergy between the businesses – we help each other out by providing each other with the different skills required to do the one job. Clients are drawn to Cornwall because of this combined with the more competitive prices.
What do you see the biggest challenge for the sector?
The misconception of the high cost involved in running/maintaining a new wooden vessel. New vessels, whatever they are made of, require a certain amount of care and maintenance to keep them in top condition. Most people's knowledge of a wooden vessel relates to a vessel of probably 50+ years old.
We're waiting to see what the full impact of Brexit will be but we lost a sale this year due to it. The client, although he could still afford the vessel, lost the sale of 70% of his business to a European organisation and hence could not retire as planned, and would not have the time to enjoy it.
Where do you see the opportunities for traditional boat building over the coming years?
There is presently a demand for smaller vessels, for the retired generation, which is mostly being satisfied by semi-traditional production boats. I think there will always be a small demand for high end, traditional vessels from day boats to family cruising yachts.
Demand is small but consistent, we mostly build to demand and with the nature of feast and famine in the order book there is a danger of a company becoming to top heavy. We are expanding into routine boatyard services/storage and maintenance to provide solid foundations and excellent facilities enabling the small amount of new builds and total restorations to be more financially efficient.
What was the best boat you have ever owned or water based journey you have taken?
I built a traditional wooden boat in the United States and then sailed it back to the UK on my own. That was a very memorable experience. I had been away travelling on an engineless wooden boat for 5 and a half years, some of which was on my own. This was funded by being a journeyman cabinet-maker/shipwright. The vessel was my home, I carried all of my tools aboard and I lived alone. So when I decided to sail back to the Thames estuary where I grew up, it was only natural to go alone. I had limited electronics on board and it was difficult getting weather reports. The worst thing was I broke the boom whilst driving the vessel hard to get out of the way of a deep tropical depression that was passing my area. I had all the equipment and materials onboard to make a repair which lasted to the end of the following season when the boom was replaced. I would do it again if I didn't have somebody that I would rather do it with. Holly and I intend to do some more voyaging when business allows.
What are your plans for your business over the next few years?
We want to get back into building new boats again. We built 15 new and all very different traditional vessels between 2006 and 2013. Due to other commitments we have not been able to accept any new commissions over the past two years. We want to do this alongside the refits.