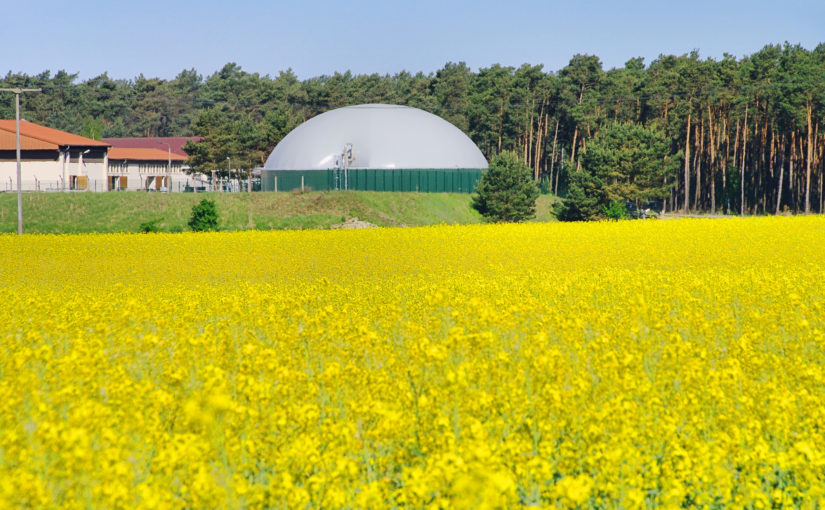 The Renewable Heat Incentive regulations have now been laid before Parliament and are likely to be in force in May 2018 subject to being able to have parliamentary time.
The Anaerobic Digestion industry has long been waiting for the proposed changes to the Renewable Heat Incentive and many projects have been on hold pending the results of the RHI consultations. The good news is that the RHI regulations have now been laid before Parliament and are likely to be in force in May 2018 subject to being able to have parliamentary time. The regulations will become law the day after the day they are 'made', when the Minister responsible signs the statutory instrument.
You can access the regulations here: http://www.legislation.gov.uk/ukdsi/2018/9780111165430/contents
The sections which affect the AD industry (as set out in the update from ADBA) are:
Uplift to biogas/biomethane tariffs (confirmed in section 62(3)(b) of the regulations and set out in Schedule 6);
Introduction of tariff guarantees (section 35(1));
Biogas/biomethane feedstock restrictions (section 74(1)(a));
Removal of digestate drying as an eligible heat use (section 3(5)(a));
Removal of wood fuel drying, waste drying or processing, and domestic swimming pools as eligible uses of heat (section 3(5)(b));
Revision of degression thresholds (Schedule 7); and,
Changes to CHP efficiency thresholds.
It has been recognised that the UK is falling short of its Renewable Heat targets (set out in the Climate Change Act) by some way and that further work needs to be done in encouraging the renewable heat sector. Government acknowledges that they are reforming the RHI to focus the scheme towards long-term decarbonisation through greater uptake of technologies such as heat pumps and bio methane (biogas to grid). AD has a strong part to play in the renewable heat sector but deployment has fallen (as is shown in the Regen progress report and the figures published by Ofgem). Tariff levels have now been reset to encourage deployment (whether these are high enough will remain to be seen):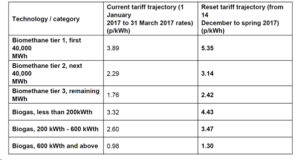 Tariff Guarantees have also been introduced which should stimulate growth of the AD sector.
Eligible heat uses under the RHI is a controversial topic and one which has been strongly debated by BEIS and Ofgem, particularly around the use of the heat for the purposes of drying.
The Government does not intend to remove all drying practices as eligible heat uses. However, the Government will:
remove wood-fuel drying as an eligible heat use other than where the renewable heat installation is replacing a fossil fuel heat source. A transition period will be included to allow wood-fuel drying plant that are in development to be accredited;
remove the drying, cleaning or processing of waste as an eligible heat use
This will have an adverse effect on those awaiting accreditation but that are using heat for a now excluded purpose.
These changes will apply to new participants (those who apply after the new rules come into force), or existing participants who add capacity from the date the reforms come into effect.
Please do get in touch with the Energy Team at Stephens Scown if you require advice around the new reformed RHI scheme or your renewable heat project.
Sonya Bedford is a partner and head of the energy team at Stephens Scown. For advice on how a Renewable Heat Incentive regulations or if you have a question about an existing energy project, please contact energy@stephens-scown.co.uk or 01392 2100700.